R

ick

L

.

P

owers

Contact Information

Suite 2300 First Tennessee Plaza

Knoxville, TN 37929-2300

P.O. Box 300

Knoxville, TN 37901-0300

Phone:

(865) 546-7000

Fax:

(865) 546-0423

Email: Rpowers@adhknox.com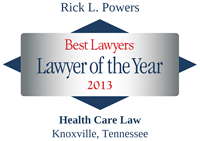 Rick Powers has more than 40 years of general civil trial practice experience with more than 350 jury trials. His practice areas primarily now include health care liability for hospitals, nursing homes and physicians; insurance defense in trucking, automobile and homeowners' cases, and other commercial litigation. Mr. Powers has over the last four years successfully tried four brain damaged baby cases which resulted in defense verdicts for his clients. Rick has also represented clients in the health care field handling peer review and medical staff bylaws issues for both physicians and health care facilities. Since 1995, Rick has been listed in the Best Lawyers of America in the area of health care and medical malpractice. In 2013, Rick was named Best Lawyers' Lawyer of the Year in health care law in Knoxville, and for 2016 he was named Best Lawyers' Lawyer of the Year in medical malpractice defense in Knoxville.
Rick is licensed to practice in all Tennessee state courts and U.S. District Court, Eastern District of Tennessee, the U.S. Court of Appeals, Sixth Circuit, and the United States Supreme Court. He is also a certified mediator approved by the federal and state courts. He is a member of the American, Tennessee and Knoxville Bar Associations, The Knoxville Bar Foundation, The American Inns of Court, the Tennessee Defense Lawyers' Association, the International Association of Defense Counsel, the Federation of Defense and Corporate Counsel, and the Defense Research Institute.
In his spare time, Rick enjoys his small horse farm where he and his wife breed and raise American Saddlebred horses.
Representative Cases:
Eyring v. Fort Sanders Parkwest Medical Center, 991 S.W.2d 230
Parlato v. Fort Sanders Presbyterian Hospital, 698 F.2d 1222
Creech v. Addington, 281 S.W.3d 363
Hartsell v. Fort Sanders Regional Medical Center, 905 S.W.2d 944
Murdock v. Fort Sanders Regional Medical Center, 2013 Tenn. App. – LEXIS 248
Proffitt v. State Farm Fire and Casualty Co., 2008 U.S. Dist. – LEXIS 70770