W

illiam

A

.

S

imms

Contact Information

Suite 2300 First Tennessee Plaza

Knoxville, TN 37929-2300

P.O. Box 300

Knoxville, TN 37901-0300

Phone:

(865) 546-7000

Fax:

(865) 546-0423

Email: Bsimms@adhknox.com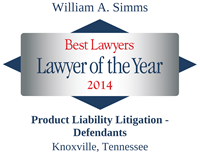 Bill Simms is a third generation lawyer. He was born February 18, 1946, in Lebanon, Tennessee, where his father, Arthur E. Simms, Jr., was attending Cumberland School of Law at the time. After graduating from Cumberland his father returned to his hometown of Fayetteville, Tennessee, the county seat of Lincoln County, to practice law with his father and brother, and to become the first General Sessions Judge of Lincoln County. Bill's grandfather, A. E. Simms, was also a lawyer and served as County Judge for Lincoln County for thirty-two years.
Bill was educated in the public schools of Lincoln County. As a boy he was active in the Boy Scouts of America, achieving the rank of Eagle Scout and earning the God and Country Award as well as being inducted into the Order of the Arrow. He served as vice-president of his high school freshman class and president of his sophomore, junior and senior classes.
He entered college at the University of the South, Sewanee, Tennessee, in the fall of 1964. There he was a member of Phi Gamma Delta Fraternity, as well as the Order of Gownsmen, an academic society, and other organizations. He graduated from Sewanee in June, 1968, with a Bachelor of Arts degree in political science.
He was admitted to the University of Tennessee School of Law in Knoxville, Tennessee, in the fall of 1968. While there he pursued a curriculum with emphasis on trial practice. He participated in the co-op program sponsored by the law school in conjunction with the legal office of the National Aeronautic and Space Administration (NASA), at the George C. Marshall Space Flight Center in Huntsville, Alabama. This allowed him to pay his way through law school. Additionally, in June, 1971, his third year in law school, he was hired as a law clerk by the firm of Arnett, Draper & Hagood, LLP. While attending school and clerking for the firm in the Summer of 1971, Bill was also selected as outstanding moot court attorney in his moot court class.
Upon graduation from law school in December, 1971, Bill accepted an associate's position with the firm. He took the Tennessee bar exam in February, 1972, and received his license to practice law on March 25, 1972.
Bill married Joyce Ann Chappell of Knoxville, Tennessee on May 27, 1973. Joyce and Bill have two daughters, Laura and Christina.
After joining the firm in 1972, Bill has practiced continuously with the firm since that time, focusing his practice on litigation, primarily insurance defense, products liability, personal injury, aviation, construction and trucking law. He is also certified as a mediator pursuant to Rule 31 of the Rules of the Tennessee Supreme Court. He has an AV rating in Martindale-Hubbell.
Bill is a member of the Knoxville, Tennessee Bar Association, the Tennessee State Bar Association and the American Bar Association. He is also a member of the American College of Trial Lawyers (ACTL), the International Association of Defense Counsel (IADC), the Federation of Defense and Corporate Counsel (FDCC), the American Inns of Court, Hamilton S. Burnette Chapter, the Defense Research Institute (DRI), the Tennessee Defense Lawyers Association, and the American Board of Trial Advocates (ABOTA). He served as President of the Tennessee chapter of ABOTA in 2004. In addition, Bill is a Fellow in the Knoxville Bar Foundation, as well as the Tennessee Bar Foundation.
Bill has been listed in the 2007, 2009 and 2010 Editions of the The Best Lawyers in America and the 2012 and 2013 editions of Best Attorneys in Tennessee, and the 2013 edition of Knoxville Best Lawyers, which is a regional directory of Best Lawyers in America, as well as Premier Who's Who, America's Registry of Outstanding Professionals, Strathmore's Who's Who, Kipling's Who's Who, Presidential Who's Who, and Sutton Who's Who in American Law.
Bill became a partner in the firm in 1977 and currently serves on the managing partners' committee, which is comprised of the four most senior partners.
Bill is an avid hunter and outdoorsman. In addition, he enjoys fishing, camping, photography, archery, gun collecting and the shooting sports.
A detailed curriculum vitae outlining Bill's professional activities and accomplishments and his membership in various professional organizations is available upon request.